Stair & Railing Products by House of Forgings
House of Forgings is a national distributor of high quality wrought iron stair parts and wooden stair components. Our stair & railing products are quickly becoming the industry standard for residential stair remodel, custom staircases and production stair builders. Our superior quality standards, customer service and competitive price have made House of Forgings the stair part brand of choice.
Since 2000, House of Forgings has supplied stair parts to approximately 350,000 homes!
We are still growing! More and more companies are switching to House of Forgings products because of our superior quality, selection and service.  Demanding customers ask for House of Forgings stair and railing products by name.
Stair Parts Product Catalog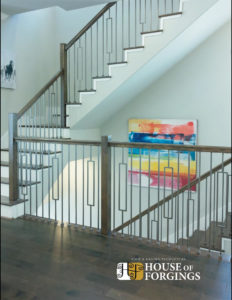 View or Download our product catalog. Hardcopy catalogs are also available upon request. Use the links below.
High Quality Wood Stair Parts

House of Forgings stocks a large variety of high quality Newels – Treads – Handrails & Fittings – Balusters & Trim.

New Products – Wentworth Collection
Now in stock! See our blog post for full details!

Affordable Horizontal Railing 
Now in Stock! View all the powder coated and stainless steel options here.

Find A Dealer
We have a huge national network of dealers that are capable of providing you with House of Forgings parts and excellent service. Find a dealer in your area
Stay Informed
Sign up for our monthly newsletter and subscribe to our blog to stay informed on the latest product news, sale items and more. Quick & easy sign up!
Bulk Pricing
Our large available inventories allow you to purchase your stair parts at once and at a volume discount. Ordering the minimum number of the same product saves you the maximum amount of time and money! Learn more about bulk pricing
Per Job & Drop Ship
We excel at and welcome Job per Job and Drop Ship orders. No order is too large or too small for our world class shipment processing facility. Contact us today to get started!
Our stair part dealers can provide you with:
Stair Remodel: Includes removing and replacing old stair parts.
New Stair Construction: Includes framing, installation and finishing.
Custom stair design : planning, fabrication, installation.
Custom iron work : wine doors, gates, stairs, balcony railing & more.
Stair parts supply and building for production homes.
Why use House of Forgings stair parts?
High quality stair parts backed by our limited warranty.
Lead-Free powder coating & custom faux finishing.
Our parts meet all building code standards set by the Stairway Manufacturers Association.
Increase your home's resale value with iron balusters.