The new Craftsman style staircase
houseofforging
The new Craftsman style staircase has a little of the old and a little of the new. The saying, "the devil is in the details" has never been more true. The new style is inspired by the traditional craftsman style architecture popularized in the early 1900's but some new twists have been added to bring this classic style back to the forefront of design. The new style features paint grade(painted white) trim on the risers and skirt of the staircase as opposed to the traditional stained wood. This simple addition creates a high level of contrast with the stained steps and handrail that many people find quite appealing. The use of blank newel posts and box newels is nothing new but more often than not the trim and detail of the newels have been updated from the more traditional styles. The use of blank square wood balusters was a standard in the traditional design and while it is still today you can often find iron balusters being used also.
See the quick reference below for all the necessary components for designing the New Craftsman Staircase.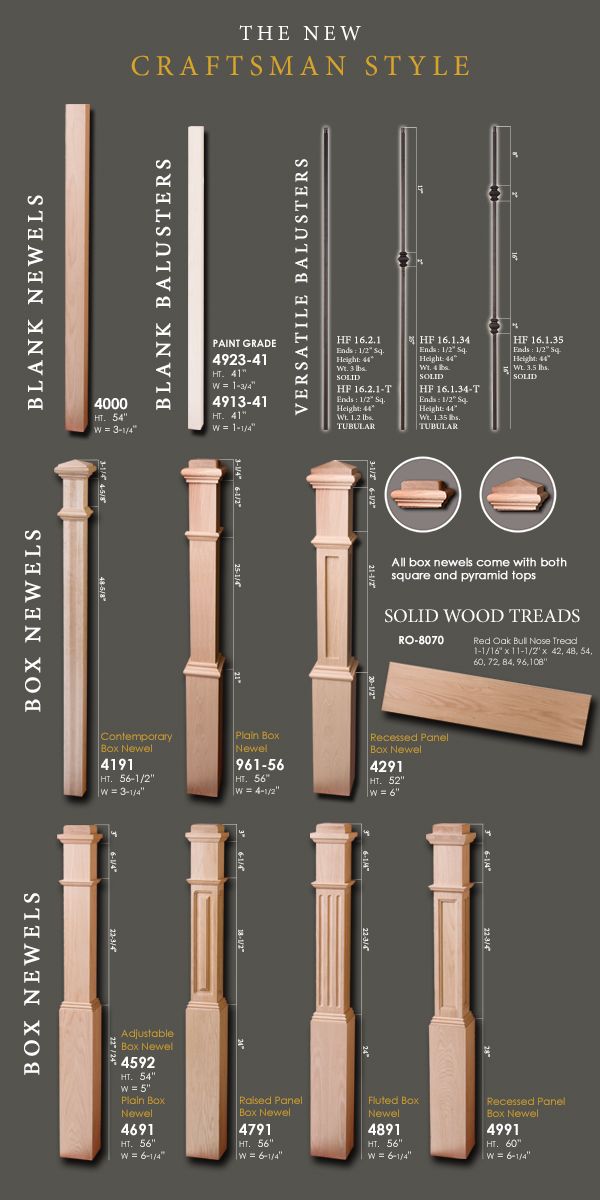 Traditional Staircase by Asheville Interior Designers & Decorators Alchemy Design Studio
Transitional Spaces by Houston Staircases & Railings IronWood Connection
Traditional Staircase by Chicago General Contractors Tandem Architecture & Construction
Traditional Staircase by Burnsville Design-Build Firms Highmark Builders
Traditional Entry by Sherman Architects & Designers David Baca Studio, LLC
Traditional Staircase by Pleasantville Architects & Designers Fivecat Studio | Architecture
Traditional Staircase by Milwaukee Interior Designers & Decorators Interior Changes home design
Traditional Staircase by Austin General Contractors Avenue B Development
Traditional Staircase by New York Interior Designers & Decorators Kwinter & Co.